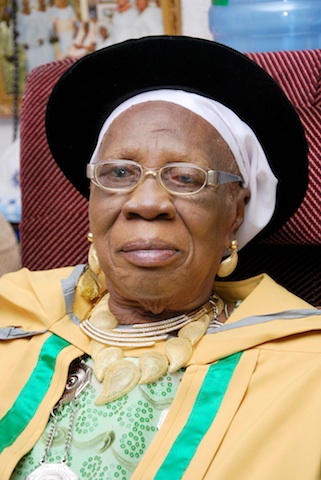 Market women, politicians, and well wishers on Sunday gathered at the Tafawa Balewa Square in Lagos for the one year Fidau prayers of late Alhaja Abibatu Mogaji.
Mogaji, who was Iyaloga of Lagos and Iyaloja-General of Nigeria, died on 15 June 2013, at the age of 96.
In a sermon at the event, Imam Al-Shakirudeen Abdul-Gafar, Senior Special Adviser to Governor of Lagos State on Islam, said that the late Mogaji was very prayerful during her lifetime.
He said that death was a debt that everyone had to pay and enjoined all present to live good lives while on earth.
"What are you going to achieve for those number of years that you have sojourned on the surface of this earth, because two days are very important in the life of man.
"The day when man came into this world crying and the day when man shall return to his Creator.
"It is now very important for you to live a kind of life that would give you an opportunity to be laughing wherever you are going," he said.
The cleric said that the late Iyaloja-General lived a life that was worth emulating.
Senator Bola Tinubu, national leader of the All Progressives Congress (APC), said he missed his mother dearly.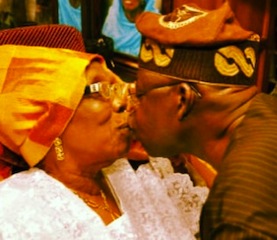 "I thank all of you who have come for this prayer; all of you market women.
"I know I miss my mum dearly, but you're there for us, you would continue to be there, your children would achieve greatness too," he said.
Folashade Tinubu-Ojo, Iyaloja of Lagos, said: "What Mama has taught me in the past has been very helpful – being accommodating and giving your shoulder out for people when necessary.
"Also, giving the less privileged opportunity that they haven't got out there and fighting for justice, especially for those who haven't got a voice.
"It has been very helpful and we thank God for her life, and she still lives in our lives," she said.
Francis Abosede, former Lagos State Commissioner for Physical Planning and Urban Development, described the late Iyaloja-General as a special woman.
"She was always looking after the welfare of mothers; she was always caring for the children of the market women.
"She was a fantastic woman; she lived a good life," he said.
Former Head of State, General Muhammadu Buhari; former Vice-President, Alhaji Atiku Abubakar and Governor Babatunde Fashola of Lagos state were some of the dignitaries at the event.
Others were, Speaker, Lagos State House of Assembly, Adeyemi Ikuforiji; former Interim National Chairman of APC, Chief Bisi Akande and National Publicity Secretary of APC, Alhaji Lai Mohammed and many others.