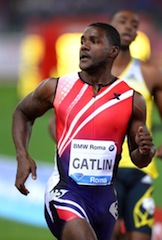 Justin Gatlin set a new world leading time of 9.86sec on the 100-metre track at the Golden Spike event in the eastern Czech city of Ostrava on Tuesday.
The 32-year-old American has now run the four fastest sprints this season in which he has so far failed to take on Jamaica's world record holder Usain Bolt, who is recovering from a foot injury.
In Ostrava, Gatlin beat compatriot Mike Rodgers (10.08) and veteran Kim Collins of St Kitts and Nevis (10.12).