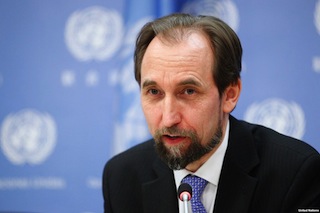 The United Nations on Tuesday in New York announced the appointment of Jordanian Prince, Zeid al-Hussein, as the new UN High Commissioner for Human Rights and the first Arab to assume the role.
Zeid, who is replacing outgoing chief, South African Navi Pillay, would begin his four-year term in September, after being elected into the position by the UN General Assembly.
Born on 10 January 1964 into the Jordanian-Iraqi Hashemite royal family, Zeid is a cousin of Jordan's King Abdullah and heir to the monarch that once ruled Iraq until a military coup in 1958.
Zeid holds a BA from John Hopkins University and a PhD from Cambridge and married with three children.
A Jordanian diplomat, the new UN commissioner served as the kingdom's envoy to the United States and the UN, and was an instrumental player in the early days of the International Criminal Court.
A supporter of international peacekeeping and justice, Zeid also served as adviser to the UN on sexual abuse, after blue helmet soldiers were found to be involved, including against youths.
He had previously been considered for the job of UN Secretary General but Ban Ki-moon was elected to the position instead.
The prince would replace Pillay, who was an anti-Apartheid activist in South Africa, broke racial barriers in her home country and later became the president of the International Criminal Tribunal for Rwanda.