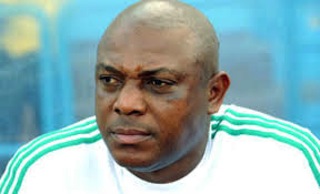 Super Eagles coach Stephen Keshi believes that all hopes were not lost, in spite of his team's drab goalless draw against the Melli of Iran on Monday.
"We had all expected to wrap up the game within the first 20 minutes, but tension, anxiety and frustration combined to adversely affect the team," Keshi said after the match.
"But you know this is football. It is not the end of the World Cup; the boys had tried to score goals many times and their failure to secure early goals must have led to anxiety.
"I tried to offer advice to the boys at the end of the first half, but you know I cannot jump into the field to play for them because that will not be possible.
"The boys made their promises but did not quite get over it," a disappointed Keshi said.
The coach said he was not in a position to challenge the decision of the referee when he overruled an early goal by his team.
"I respect his decision. He had the final say to his decision," he said.
Midfielder Mikel Obi, who was named man of the match, courtesy of fans, had also described the match as a difficult and frustrating match.
"We still have two games to go. We have to get back and correct our mistakes. They (Iranians) came out to frustrate us."
Meanwhile, Coach Carlos Queiroz of Iran, who was uncharitable in his comments over the Eagles, said his boys, who celebrated after the match, had a right to do so.
"They deserved the celebration because of the hard work they put in to contain the Nigerians, particularly because of the high pedigree of players that made up the Eagles.
"We came out of difficult condition. We did not even enjoy the luxury of playing friendly games. We played an honest game.
"It is better to go home with a point rather than praises as losers. You need to see what this team will look like over the next eight years."
"It is a huge achievement because all the players play in the amateur leagues.
"And to be able to hold down top players in the big leagues in Europe is an uphill task," the former Real Madrid manager said.