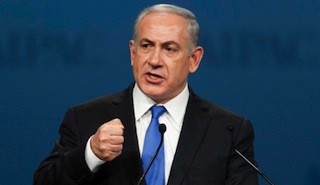 Israeli troops arrested 65 Palestinians overnight, most of whom were freed in a 2011 prisoner swap, as they scoured the West Bank for three teenagers believed kidnapped by Hamas.
The arrest operations were praised by Prime Minister Benjamin Netanyahu who said it sent an "important message" in the operation to find the three teenagers and deal a substantial blow to Hamas in the West Bank.
"Sixty-five suspects were detained overnight, including 51 Palestinians that were released in the Gilad Shalit prisoner exchange in 2011," an army statement said.
It was referring to the release of 1,027 Palestinians in exchange for an Israeli soldier held by Hamas militants for more than five years.
Army radio said most of those re-arrested were members of the Islamist movement, which Israel has blamed for the kidnapping of the youths last week in the southern West Bank.
"The overnight activity during which Hamas terrorists were arrested, including those freed as part of the Gilad Shalit release agreement, is something which sends an important message," Netanyahu said in a statement.
He said the arrests were part of multiple operations being carried out by the military "with the aim of bringing the kidnapped youths home, and damaging the Hamas movement in Judaea and Samaria" – Israel's term for the West Bank.
Since the searches began early on Friday, Israeli troops have arrested some 240 Palestinians, searched around 800 locations and raided 10 Hamas-run institutions, the statement said, describing them as places used by the movement "to recruit, disseminate information and enable cashflow."
So far, there has been no formal claim of responsibility, and Hamas has dismissed Israel's accusations as "stupid."
But a senior officer in the army's central command said Hamas would pay dearly for the youths' abduction.
"Hamas made a strategic mistake when it kidnapped those three boys," he told army radio.
Lieutenant Colonel Peter Lerner, the military's official spokesman, said the ongoing operations were "already striking a substantial blow to the Hamas terror infrastructure and its institutions".
"We have two efforts going on parallel, the first is getting back our boys and the second is to give a blow to Hamas and its infrastructure," Lerner told reporters.
"We are acting on the understanding that they are still alive."
Troops also raided Radio Al-Aqsa, a Hamas station which has offices in Ramallah and the southern city of Hebron, Lerner said.