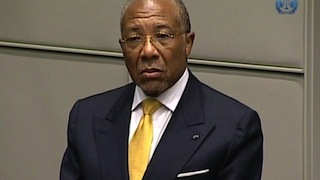 Former Liberian president Charles Taylor says his imprisonment in Britain breaches his human rights and has applied to serve the rest of his jail term for war crimes in Rwanda, his lawyer said Thursday.
Taylor was jailed for 50 years in 2012 on 11 counts of war crimes and crimes against humanity over acts committed by Sierra Leonean rebels he aided and abetted during the brutal 1991-2001 civil war.
He was the first former head of state to be jailed by an international court — the UN-backed Special Court for Sierra Leone in The Hague — since the Nazi trials at Nuremberg in Germany after World War II.
Taylor's lawyer John Jones told the BBC: "What he has applied for is for the revocation of the sentence to be served in the UK so that he can serve his sentence in Rwanda where all the other prisoners convicted by the special court for Sierra Leone are."
"The UK has a duty to ensure family life, not just for him but for his family. It's a clear duty under international law and English domestic law.
Jones added: "If the UK is unable to make these family visits possible, no matter what he has been convicted of, he is going to serve a 50-year sentence, he has got a right to see his wife and children."
Taylor's family, which reportedly includes 15 children, has previously complained about conditions at HMP Frankland in northeast England, the maximum security prison where he is being held.
"They took him to this prison where high (-risk) criminals, terrorists and other common British criminals are kept and he is being classified as a high-risk prisoner," his wife Victoria Addison Taylor told AFP last year.
"He is going through humiliation and you cannot treat a former head of state that way."
Britain's Foreign Office said Taylor was treated in the same way as any other prisoner and the court in The Hague would decide on his application.
"In terms of him being mistreated, the answer is no. As with any other prisoner in the UK, he's being held in decent conditions," a spokesman told AFP.
"He and his family have the same conditions and visiting rights as any other UK prisoner."

Load more