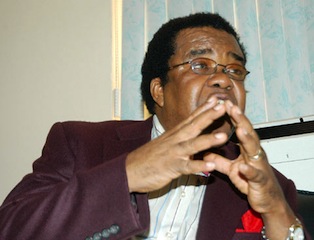 Delegates who failed to show up for plenary sessions of the ongoing National Conference without any cogent reason will as from next Monday lose their sitting allowances, the management of the Conference who expressed concern about the increasing rate of absenteeism of members said on Thursday.
Professor Bolaji Akinyemi, Vice Chairman of National Conference who announced this said the management is concerned that over 50 per cent of seats of delegates are now always vacant during plenary sessions of the Conference.
He added that the government is also concerned about the increasing rate of absenteeism of delegates and has asked the management of the conference to apply extant rules as regards when an interventionist body is being paid sitting allowances and "it means exactly that we should consider not paying allowances for delegates who don't show up," said the former Minister of Foreign Affairs.
"And we thought we should let you know and say this as diplomatically as we can because we are all adults, we are accomplished people in our own rights.
"And please, we don't want to be put in a position where we will start treating distinguished delegates as if they are primary or secondary school students that you tick present and all that kinds of things.
"But please, with effect from Monday, delegates who don't show up will not be paid sitting allowance," Akinyemi said to the approval of the delegates who all shouted 'yes' to indicate their support for the action.
Akiyemi added that delegates will only be excused on the grounds of sickness or for other cogent reasons
Delegates to the National Conference receive N1.4 as sitting allowance for two weeks.
But attendance at the Conference has been declining since the Conference began the consideration of the reports of its various committees in the past few weeks.

Load more