President Goodluck Jonathan has appointed Mrs. Roli Bode-George as the Director-General of the National Drug Law Enforcement Agency (NDLEA).
Roli is the wife of Chief Bode George, a former deputy chairman of PDP
The appointment of Mrs Bode-George who takes over from Mr Olufemi Ajayi, who is now the Executive Secretary of the Petroleum Technology Development Fund (PTDF) was announced in a statement issued in Abuja on Thursday and signed by Reuben Abati, spokesperson for President Jonathan.
The appointment is with immediate effect.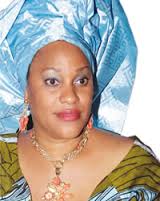 Roli, 51, was appointed by Jonathan as a member of the National Population Commission in 2011.
She was the failed candidate of the PDP for the Ikeja Constituency House of Representatives seat in 2007.