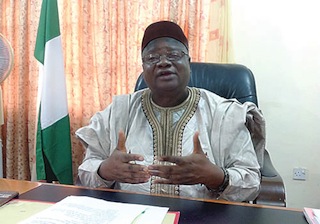 The result of Saturday's governorship election in Ekiti will be announced in Ado-Ekiti and not Abuja, the Resident Electoral Commissioner (REC) in the state, Alhaji Halilu Pai, has said.
Pai told a news conference in Ado-Ekiti on Friday that the clarification became necessary because of the rumour making the rounds that the result would be announced in Abuja.
He said the results of votes cast would be collated by INEC officials at ward and local government levels and that the final result would be announced in Ado-Ekiti, the state capital.
"The election is taking place in Ekiti State, all processes must be completed in the state; the rumour that election result would be announced in Abuja is not true," Pai stressed.
According to him, of the 732,165 electorate that registered to vote, 476,870 had collected their Permanent Voters' Card (PVC), representing 65 per cent.
He reiterated that no voter would be accredited to vote without PVC.
The REC said the commission had accredited 1,900 local and foreign observers in order to add value to the exercise.
He advised journalists to be objective in their reportage, and wait for the official announcement by
INEC to avoid overheating the polity.
Ekiti has 177 electoral wards and 16 local government areas.