Sulaimon Mojeed-Sanni
Students of the Obafemi Awolowo University in Ile-Ife, Osun State in western Nigeria, have declared the closure of their school by the authorities on Wednesday, 18 June as an affront to democracy and right to peaceful gathering.
In a press statement by the Students Union Government, the students contended that the action was undemocratic and an attempt to stiffle the voice of the majority. They demanded the immediate re-opening of the university.
"In reality, the autocratic closure of the university is intended to break the resistance of students against an astronomic, inconsiderate increment in fees. This closure threatens the democratic advancement of the Nigerian society, and indeed is a militaristic relic haunting the voice of the majority, harmless and poor citizens. Our union
condemns, in strong terms, this vicious closure and we demand for immediate reopening of the university," the student said.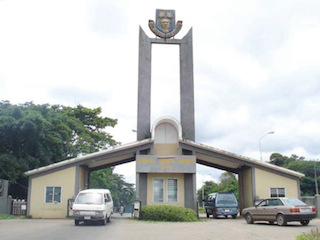 The press statement was signed by the trio of Ibikunle Isaac, President, Bamidele Oludare, Public Relations Officer and Shittu Olatayo, Secretary-General.
Explaining the circumstances surrounding the protest, the students noted that the University Senate approved an astronomical increase in the school fees on May 6, 2014. According to the students, this amount to over 200% that fresh and returning students are to pay compared to the previous fee.
The University management attributed the increment to the federal government's under funding of education and that it needs to meet the rising cost of education.
The students disagreed with this line of reasoning, and instead accused the university authorities of mismanagement of funds.
"While we agree that education needs proper funding to assure quality, we reject the wretched university philosophy that poor parents and students should fund university education. From our standpoint, Nigeria is unimaginably wealthy to appropriately fund university education, instead of further aggravating the burden of our poorly-paid working parents – whose little income is constantly ravaged by galloping inflation.
"In 2011, this same management increased acceptance fee from N2, 000 to N20, 000. And 3 years after, with over N300 million generated from this fraudulent source, the university is yet to record substantial development in areas of academic and welfare infrastructures. Yet, amid this, the university went ahead to squander university fund, N500 million specifically, on a swimming pool project as the water supply system of the university remains a typhoid and skin-diseases haven for students," it said in the statement.
The students insisted that their protest was peaceful and should not be a basis to close the school. They bemoaned the militarisation of the university with anti-riot policemen.
"Our demonstration on Weds 18th June was as peaceful and smooth as usual. However, it was just six hours into the protest that the university senate decided that the school has been shut down indefinitely upon allegations of violent and disruptive protests by co-ordinated Great IFE students that were rather playing, singing and dancing at various points in the university campus."