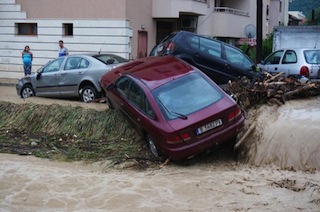 At least ten people, including two children, died and three more were missing in heavy floods after torrential rain lashed Bulgaria, Interior Minister Tsvetlin Yovchev said Friday.
Nine of the victims, including the children, were in the worst-hit Black Sea city of Varna, where cars were swept into the sea by the flood that submerged streets and houses late Thursday, the minister said.
Another victim was found in the nearby northeastern town of Dobrich, where 150 people were evacuated from their flooded homes.
"The situation is beginning to calm down but it is still critical," Yovchev said.
The storm lashed Varna on Thursday evening, submerging the hillside neighbourhood of Asparuhovo, with TV footage showing cars swept away or piled up by the torrent.
Hundreds of houses were flooded, some totally destroyed by the waters pouring down the hill.
There was no precise information on the damage caused by the flood as rescue efforts were hindered by the continuing rainfall.
Electricity in the worst affected areas of Varna was cut on Thursday and the authorities said it would not be restored for the time due to safety concerns.
In central Bulgaria, a major pass through the Balkan mountains was also shut on Friday due to the bad weather.
The heavy rains were forecast to continue throughout Friday.