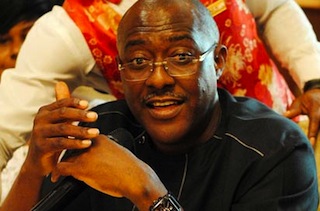 The PDP on Saturday described as inciting, the condemnation of heavy security presence in Ekiti by the leadership of the APC.
The party's National Publicity Secretary, Olisa Metuh, stated this at a news conference on Saturday in Abuja.
He said that the utterances of APC's leadership with regard to the deployment of security personnel to the state to ensure peace in its governorship election was unfair.
Metuh said the primary responsibility of President Goodluck Jonathan is to protect the lives and property of all Nigerians.
The deployment of security men to the state, he said, was to ensure this, in the interest of all.
"His primary assignment before being a member of the PDP is to provide and protect the citizens of this country and he cannot be intimidated in doing that," Metuh said.
He explained that Jonathan had by the action, proven that he was committed to free, fair and credible elections across the country.
He said the deployment of security personnel was done in Edo, Ondo and Anambra where governorship elections had been held earlier.
"In all these state elections, PDP lost; meanwhile, the governor of Edo had cried out to the public that soldiers had invaded the state to rig the election for the PDP.
"But at the end of the day, the election appeared free and fair to him and PDP lost while he won.
"He came out on national television to commend the President, saying he is a statesman," Metuh said.
Metuh said the utterance of APC leaders was capable of creating chaos and violence in Ekiti and the country at large.
The party spokesman, therefore, appealed to APC leadership to behave like a true opposition party and marshal out their points.
He explained that the PDP campaigned extensively and presented a credible candidate to the people of Ekiti.
He expressed optimism that the PDP candidate, Ayodele Fayose, would emerge winner if the election was conducted in a free, fair and credible manner.