The governor-elect of Ekiti, Ayo Fayose, on Sunday dedicated his victory to the people of the state.
Fayose told NAN in Ado-Ekiti that his victory reflected the wishes of the people of the state.
The governor-elect, who spoke through his Chief Press Officer, Idowu Adelusi, described the election that produced him as free, fair and credible.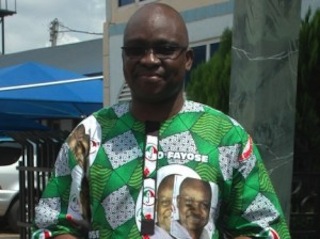 He promised to improve the living standard of the people by providing job opportunities and making education affordable.
In a post-victory press conference later, Fayose thanked the people of the state for voting for him and promised to work with Gov. Kayode Fayemi in developing the state.
Fayose, who called on other candidates to support his administration, warned his supporters against making disparaging remarks which may promote violence.
He particularly warned against attacks on the personality of the incumbent governor, Dr Kayode Fayemi, saying, ''we must respect each other so as to allow peace to reign in our dear state.''
" Governor Fayemi has called to congratulate me and I am determined to reciprocate this humble and kind gesture,'' Fayose said.
Fayose also pledged to work in particular with Fayemi and Opeyemi Bamidele of Labour Party in order to draw from their wealth of experience.
The governor-elect also said indigenes of the state would benefit from award of contracts, saying this would boost the local economy and create employment.
Fayose further promised to assist all victims of political violence during the election without consideration for party affiliation.
Also reacting, the Labour Party candidate, Mr Opeyemi Bamidele, said, "I am not desperate to be governor."
Bamidele, however, said that he remained a credible alternative for the position of governor in the state.
Asked whether he regretted not collaborating with Fayose in prosecuting the election, Bamidele said he turned down the request because he still had the ambition of becoming the governor of the state.
The Chief Press Secretary to Governor Kayode Fayemi, Mr Yinka Oyebode, however, told NAN that his boss would react to the outcome of the election at the appropriate time.
.Updated at 10.25p.m on Sunday 22/6/2014