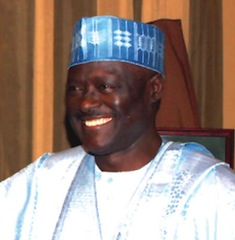 The Federal Government would spend N268.37 billion on infrastructure in the country in 2014 under the Subsidy Reinvestment and Empowerment Programme (SURE-P).
SURE-P Chairman, General Martin Luther Agwai (retd.), said in Abuja.
"The president promised the Nigerian people that the money from the partial removal of subsidy would be set aside and judiciously used to be managed by a group of credible Nigerians."
According to Agwai, the Federal Government takes 41 per cent of the subsidy money with 51 per cent going to States and Local Governments while 5 per cent is left for ecological matters.
He said that the Federal Government appropriated N180 billion yearly as SURE-P federal money, adding that the current budget included the roll over from 2013 budget.
Agwai explained that N88.37 billion of the amount appropriated for SURE-P in 2013 was not accessed as some of the programmes set aside for intervention did not meet required criteria.
"In the budget of last year N88.37 billion was not assessed by some of the programmes. And, we have criteria that we measure for us to intervene in the tune that government has asked us to intervene in a project or in a programme.
"And if you do not meet those criteria we will not release the money. So, because of that we now have to roll over N88.37 billion from last year's budget to 2014 budget.
"And that is why if you add N180 billion to N88.37 billion, it will give you the N268.37 billion that we have in the budget this year."
According to Agwai, government has designed SURE-P as an instrument that will build the capacity of Ministries, Departments and Agencies (MDAs) on project implementation.
He said this was why the managers of SURE-P were working with the MDAs through their Projects Implementation Units (PIU).
He explained that the PIUs were the link between SURE-P, the project and the benefiting ministry, adding that this was meant to ensure proper project monitoring and evaluation.