Tokyo stocks rose 0.36 percent on Monday morning, buoyed by a weaker yen and record-setting advances on Wall Street.
The Nikkei 225 index added 55.74 points to 15,405.16 by the break, while the Topix index of all first-section issues was up 0.06 percent, or 0.82 points, to 1,269.74.
The dollar was at 102.03 yen in midday trade, hardly changed from 102.06 yen in New York Friday afternoon but still up from 101.84 yen in Asia earlier in the global day.
"The buying spree is continuing, with domestic pension fund managers' appetite looking strong. This is forcing overseas investors to commit to the market as well, or risk being left out of the rally," said Mitsushige Akino, chief fund manager at Ichiyoshi Investment Management.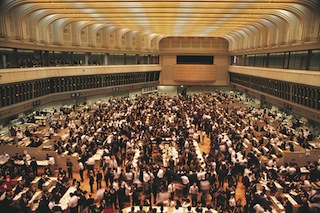 "It's difficult to say where the limit lies, however, since most of the technical indicators already show an over-bought market that is trading well above its major moving averages," he told Dow Jones Newswires.
Shares in Mitsubishi Heavy Industries soared 1.26 percent to 638 yen after France's Alstom chose a $16.8-billion deal with General Electric to sell part of its business, over a joint bid from Mitsubishi and Germany's Siemens.
Nissan Motor was up 0.50 percent at 1,004 yen on media reports that it would start production of luxury cars at a Mexican plant with Germany's Daimler.
On Friday, US stocks edged to fresh records with optimism over the US economy offsetting worries over turmoil in Iraq.
The Dow rose 0.15 percent and the broad-based S&P 500 advanced 0.17 percent, both ending at record highs.