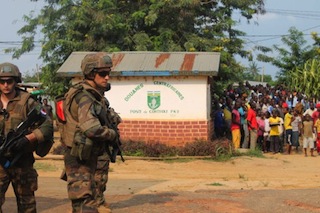 Gunmen have killed 17 Muslims at a camp in the centre of the strife-torn Central African Republic in the latest sectarian violence to wrack the impoverished country, peacekeepers said on Tuesday.
"Seventeen people, all of them from the (Muslim) Fulani minority, were killed on Monday by young gunmen claiming to be from the (mostly Christian) anti-balaka" militia near the town of Bambari.
An officer from the African Union force told AFP of the killing on condition of anonymity, adding that "some of the bodies were mutilated and burnt by the assailants."
The killings sparked reprisal attacks in the town by the mostly Muslim Seleka ex-rebel force.