Nigeria Coach Stephen Keshi says the Super Eagles will not play for a draw against Argentina today.
Nigeria currently lie second behind Argentina, and require only a draw to reach the round of 16. Victory over Argentina would see the Super Eagles finish as group winners, but a loss, and Iran victory over Bosnia could potentially lead to elimination.
Keshi, however, has no intentions of holding back. "I never said I'm playing for a draw," said the Nigeria boss.
"We are ready to come out and play football and that's what we are going to do tomorrow (today)."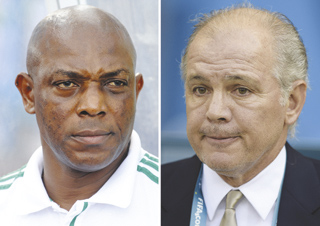 Iran almost escaped with a point against the Albiceleste by sitting deep, but Keshi says he won't be looking to emulate their tactics.
"Every game has its own character. Both teams will play different. I might take one or two things out of their game against Iran.
"But I'm not going to take whatever they did against Argentina because I'm sure tomorrow (today) will be a different style, a different character of the game."
On the contrary, Nigeria's Osaze Odemwingie has told AfricanFootball.com in Brazil the African champions will be gunning for victory against Argentina so as to finish top of their World Cup group.
And the prize for winning the group will be a round of 16 clash against the runners-up in Group E, who are likely to be Switzerland, and thus avoid rampant France.
"We always aim high, we hope to win our group and so we will be going for victory," said the Stoke City striker, who gave Nigeria their first World Cup victory in 16 years.
"It was a difficult game for Argentina against Iran and I believe we have equal strength, so anything can happen but we hope for victory."
He further said he hopes the Eagles improve on their attacking game against the South Americans.
"We will give our best shot again. In the last game (vs Bosnia), we played well as a team and team performance will be key against a team like Argentina. We will try to be more organised and improve on our attacking game so as to hopefully get more goals and chances," he said.
Skipper Joseph Yobo said he expects a tough contest as gun for qualification to the knockout stage of the World Cup.
"I expect an exciting and difficult game, but we will do everything to get a result," vowed Yobo, who will win a record 100 caps against Argentina.
"We are prepared, mentally and physically, and looking forward to the game against Argentina," said Almeria midfielder Ramon Azeez.
"A draw will be okay for us, but we will fight like wounded lions," added Babatunde Michael.