Taiwo Adelu/Sao Paulo
It was celebration galore as Nigerians in Brazil to watch the ongoing FIFA World Cup rejoiced over the qualification of the Super Eagles to the second round of the tournament.
Though the Stephen Keshi-led Eagles lost 2-3 to Argentina in the last group match played 1pm local time in Porto Alegre Wednesday, the Nigerian team were able to scale the hurdles with four points in their kitty. They finished second in Group F after Iran lost 1-3 to Bosnia. Argentina topped the group with nine points.
Some of the Nigerians who had earlier hope to watch the match live in Porto Alegre, but could not make it due to the lapses in the arrangement made by wakanow.com, official travel partners to the Nigeria Football Federation, NFF, said the performance of the Super Eagles lifted their mood.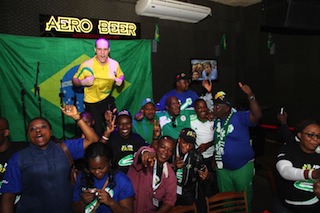 Some of them, who spoke with P.M.NEWS Sports at their base at Ibis Congonhas Hotel, said that though it was painful that they could not be at the stadium to cheer the Eagles, they were able to console themselves with the qualification ticket to the second round of the World Cup.
"It has been a long time we got ticket to play in the second round of the World Cup, so picking the ticket today was a job well done for Keshi and his team. I must commend their courage and determination against Argentina today. One thing is that the team improved from their previous two matches," said Mr. Jenkins Alumona, a veteran sports journalist.
"I believe the Eagles will take this performance against Argentina to their second round game. France are not a threat to us in the next match as the Eagles had always performed well against any European team," he added.
In his own comment, Prince Babatunde Momoh from Ikare Akoko, Ondo State, who was one of the fans hampered from being in the stadium said: "Our team played well today and I'm so happy with the performance of the Eagles. We tried our best, and more importantly, Lionel Messi was not giving the chance to shine over our team. Though he scored two goals of the match, I think he was not all that spectacular.
"We'll see a different Eagles in our next match against France. This team are capable of beating France and tell Nigerians that one Prince from Ikare Akoko said that the Super Eagles will qualify for the quarter final by the grace of God."
Charles Ogunaike, who said he sponsored himself to the World Cup, was delighted that the Eagles were not disgraced by Argentina, adding that with the performance of the team, there is hope that Nigeria can secure the quarter final ticket at the expense of France