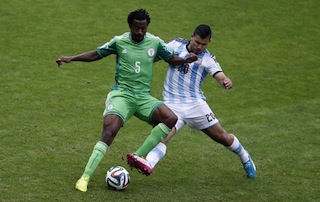 Argentina striker Sergio Aguero's miserable World Cup took another turn for the worse with him being ruled out of next Tuesday's last 16 match with Switzerland because of a leg injury.
The 26-year-old Manchester City star — who had several injury problems last season — went off in the first-half of Tuesday's final group game with Nigeria and scans revealed the damage, said Argentine team doctor Daniel Martinez.
The Argentinian camp, though, denied rumours that the injury is more serious than they are saying and that he could miss the rest of the tournament.
"It is a muscle injury," the Argentine press officer Andres Ventura told AFP.
"To interpret that as meaning he will play no further part in the World Cup is taking things too far."
Aguero, who despite his injuries last season still scored 17 goals as City won the title, has failed to add to his 21 goals for his country in his three appearances and has been largely overshadowed by Lionel Messi, who is joint top scorer with four.