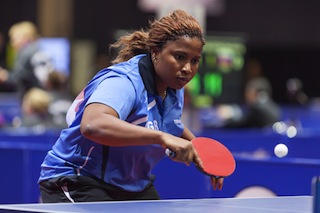 Following her inability to show up for the first round match of the ongoing International Table Tennis Federation (ITTF) Africa Top 16 Cup on Friday, the Nigeria Table Tennis Federation (NTTF) may suspend Edem Offiong.
The number four seed in the tournament failed to show up for her first match of the preliminary round against Ghana's Cynthia Kwabi and this resulted in a walk-over.
For this, the NTTF decided to query her for failing to report for the match.
According to the federation, this was what happened during the last World Championship in Tokyo, Japan when the female team failed to report for the group game against Portugal and this also resulted in a walk-over for the team.
This prevented the team from qualifying from the group stage of the tournament. The federation, however, urged other players to take a cue from this especially at this time when efforts are being made to inculcate discipline in the team.
To ascertain her progress to the knockout stage of the competition, Offiong needs to win her next two matches against Onyinye Nwachukwu of Congo Brazzaville and South Africa's Khanyisile Madlala.
Meanwhile, a major upset was recorded in the men's qualifiers, as number four seed, Congo Brazzaville's Saheed Idowu was beaten 3-2 by Tunisia's Adem Hmam.
A disappointed Nigeria-born Congolese star said he was not in good shape for the encounter having featured in the four-day Lagos World Tour.
"I was not in good shape for the match and I just managed to play the game. Unfortunately I could not cope with the pace of the player and this caused me the victory. There is still a tough task ahead of me as I will be facing Nigeria's Segun Toriola who defeated me in the World Tour," he lamented.
On Saturday, the knockout stage will begin with the winner in the men's and women events representing Africa at this year's ITTF World Cups.