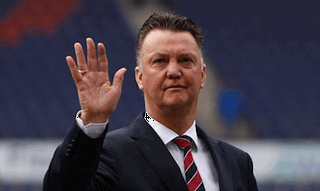 Netherlands boss Louis van Gaal wants Portuguese referee Pedro Proenca to allow water breaks during his side's World Cup last 16 encounter with Mexico in Fortaleza on Sunday.
Temperatures for the 1pm kick off local time (1600GMT) are expected to reach 30 degrees Celsius with intense humidity also likely to drain players on both sides.
"We hope that we get breaks to drink, otherwise we will put bottles around the pitch for the players," said Van Gaal, who will take over at Manchester United after the finals.
"Dehydration is an element we have looked at in our training. Every people is different, but some can lose up to four kilos during the match, so you have to keep them hydrated as much as possible.
"We hope that the referee will referee in a sensible way."
And Van Gaal admitted that the heat and humidity would be an advantage for the Mexicans at a World Cup where teams from central and south American sides have generally outperformed their European counterparts.
"That is the reason we tried to get the players as fit as possible. I am quite conscious that it will also affect the Mexican team, but they are much more used to it."
The Netherlands did, though, score one of Europe's few victories over south American opposition with a 2-0 win against Chile in their final Group B game to ensure they won the group with a 100 percent record.
And he is expecting a similar test against Mexico, although he acknowledged El Tri lack the individual star power of the likes of Alexis Sanchez and Arturo Vidal.
"I think Mexico is comparable to Chile. The difference with Chile is that we could have been faced with two fantastic players. (Arturo) Vidal didn't play so that was obviously a big advantage for us.
"But I think Mexico as an entire team is a better team. I believe that they play according to their qualities, their skills and they have great determination to win. For me Mexico is the most determined team we've faced."
Dutch captain Robin van Persie will come back into the side having missed the win over Chile due to suspension.
Van Gaal confirmed that everyone bar Leroy Fer is fit after the Norwich City midfielder strained a hamstring in training on Tuesday.
However, he insisted that defender Bruno Martins Indi is unlikely to start as he has only just returned to training after suffering a concussion in the 3-2 win over Australia last week, so former Liverpool forward Dirk Kuyt is expected to start in an unfamiliar role at left-back as he did against Chile.
Van Gaal's men's preparations for the game were also disrupted as both the Netherlands and Mexico were not able to train on the pitch at the Estadio Castelao on the eve of the match due to the bad state of the pitch.
"It is a shame but I do understand the decision from FIFA because the pitch is the most important material for a footballer," added Van Gaal.
"I just checked and the pitch is not that good."