Football lovers on Monday described the 100caps of Super Eagles captain, Joseph Yobo as a remarkable achievement.
NAN reports that Yobo is the only Super Eagles player in history who had played 100 times for Nigeria.
Yobo achieved this feat while playing against France in the round of 16 at the ongoing FIFA World Cup in Brazil.
Yobo debuted for the senior team on 24 March 2001 at age 20 against Zambia in an Africa Cup of Nations Cup Qualifier in Chingola, Zambia.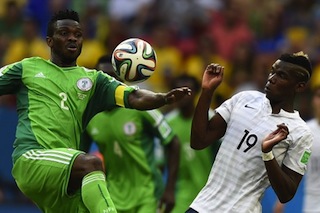 Adegboye Onigbinde, a former Super Eagles Coach, told NAN that he was happy with the record of the player.
Onigbinde said that Yobo had done something that was worthy of emulation, saying that other players should emulate the virtue of the captain.
"I congratulate him for this accomplishment as a player and I am very happy that I related with him as a coach. Other players should contribute their quota to the team and work towards achieving what Yobo has accomplished as a player," he said.
Mutiu Adepoju, an ex-international and former teammate of Yobo in the national team, said that the player had contributed immensely to the growth of the team over the years.
Adepoju said that it was a well deserved feat for the player to play for a record of 100 times for the country.
"It is a very good thing for Yobo, he is very good player and deserves commendation for his input to the team over the years," he said.
Tarila Okorowanta, a former Super Eagles player, said that Yobo had done a highly commendable thing for the country.
Okoronwanta added that his contributions had shown his ability and significance in football development.
"Yobo has done creditably well for the national team over the years. His consistence and contribution has paid off,'' Okorowanta said.
Clement Temele an ex-player, heaped praises on the legendary player who started off as an attacker in his youthful days at the 1999 FIFA U-20 World Cup competition in Nigeria.
"He is a great player, we celebrate with him and he should be honoured as a player who had given the best to the country all these years.
"We all as ex-players prayed for this kind of feat, we are happy Yobo has achieved this and we just wish him well, and we hope for many more caps for him.
Diskson Adejube, a former board member of the NFA, described Yobo's achievement as a milestone.
"I congratulate Yobo for his milestone achievement," he said.
Yobo started playing for Nigeria from the U-20 level, he played at the 1999 FIFA U-20 World Cup hosted by Nigeria.
Yobo has won African Cup of Nations gold in South Africa in 2013, and won bronze medals in 2002, 2004 2006 and 2010 scoring seven goals for the Super Eagles.
He played three World Cup finals in 2002, 2010 and 2014 bagging his 100th cap in Nigeria's 2-0 loss to France.