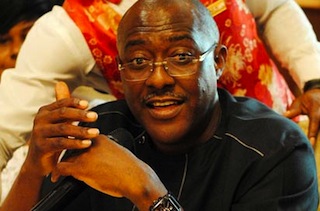 The Peoples Democratic Party (PDP), said the outcome of 21 June governorship election in Ekiti State showed that All Progressives Congress was not on ground in the state.
Olisa Metuh, the party's National Publicity Secretary, stated this at a news conference in Abuja on Monday, adding that, democracy had taken firm roots in the country.
Metuh said result offered great lessons and showed that the people could make informed leadership choices given free and fair atmosphere.
"This shows that the APC was not really on ground and lacked the support of the people."
He commended the people of Ekiti state for the overwhelming support and the flurry of felicitations that had continued to pour in for the PDP and its candidate, Ayodele Fayose from well-meaning Nigerians.
He commended outgoing governor, Kayode Fayemi of the APC who lost to the election and conceded defeat by congratulating Fayose.
He, however, attributed the PDP's landslide to the incontrovertible popularity and acceptability of Fayose over his opponents.
This, he said, was essentially the basis of the genuineness of the unprecedented crowd that attended Fayose's rallies before the election.
He added that the insistence of party's National Chairman, Alhaji Adamu Mu'azu on due process and strict adherence to principles of internal democracy, were other reasons PDP won the election.
"This was the kernel of transparency in the conduct of the party's governorship primary, which led to the emergence of a popular candidate for the election."
He maintained that the party had given Nigerians a level playing ground to canvass opinion and aspire to the highest position irrespective of ethnic, religious and gender consideration in the PDP.
"The effective communication of this bold line between the PDP and other parties enabled the people of Ekiti State to make informed choice regarding the platform their governor must come from.
He commended President Goodluck Jonathan for his consistent commitment to institute a legacy of credible elections and for firmly entrenching democratic ethics in the country.
He assured supporters of the party that it was marching on with new spirit to Osun State governorship election slated for 9 August, with an equally popular candidate in the person of Iyiola Omisore.
"With the overwhelming support of the people of Osun state, our victory in the 9 August election is also guaranteed.
"The PDP as the only national party with the highest electoral followership in all the wards across the country will continue to grow stronger."