A truck exploded in a huge fireball in the northeastern Nigerian city of Maiduguri on Tuesday when explosives concealed among its cargo of charcoal were detonated, according to witnesses and a brief online statement from the defence ministry.
"A van loaded with charcoal and IED exploded at Monday Market in Maiduguri this morning. The location has been cordoned," the Twitter account of the defence minister's office announced.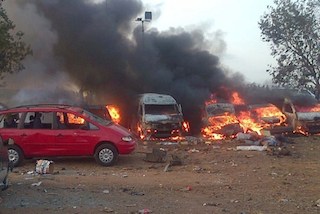 The truck exploded at the largest roundabout in Maiduguri, the capital and the largest city of Borno state, during the morning rush hour at 7:50 am (0650 GMT), according to an AFP correspondent on the scene in the immediate aftermath.
There was no immediate information available about whether there had been casualties.
There was also no claim of responsibility for the attack, although Borno state and Maiduguri itself have been repeatedly targeted in an escalating insurgency by Islamist Boko Haram militants.