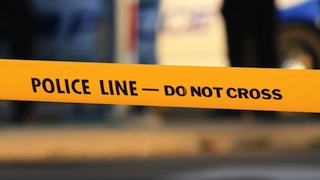 French police early Wednesday cleared a food handout centre and three squats in the port of Calais occupied by some 300 migrants waiting to try to illegally cross the Channel to Britain.
Police cars and inflatable boats blocked road and sea access to the port after receiving a court order backing local authorities' concerns over sanitary conditions in the food distribution centre.
Denis Robin, the top government official for the region, said about 320 migrants had been taken away, of whom around 250 had been holed up in the food distribution centre.
He said they would be questioned and their cases examined individually.
Migrants who tried to escape by entering nearby homes were apprehended, one resident said.
"It began at around 6:00am. I was inside and the cops came and they blocked all the exits and used tear gas to stop people from fleeing," said Celine, a 25-year-old volunteer at the food distribution centre.
Camille, a nurse, said about 25 migrants had managed to escape the police dragnet. There were up to 500 migrants sheltered in the centre in recent weeks.
Many of them came from countries that had suffered conflict, such as Iraq, Syria, Afghanistan and Sudan.
The migrants in the centre and the squats were rounded up and driven away by police, the charity workers said.
Some managers of the charities that had been handing out food were also arrested, they said.
The migrants had been occupying the food distribution centre ever since police cleared three makeshift camps holding 650 people at the end of May.
French police have been periodically trying for years to dislodge migrant camps in and around Calais.
But the flow has proved persistent, with many migrants hoping to hide in trucks or other vehicles crossing to Britain, where they believe conditions are better for would-be refugees than in France.