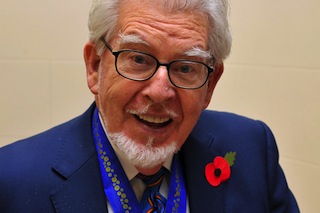 Television star Rolf Harris, a household name in Britain and Australia for over 50 years, faces jail on Friday when he is sentenced for a string of indecent assaults on women and girls.
The Australian-born children's entertainer, artist and songwriter was on Monday found guilty of 12 counts of assault on four girls and young women aged from seven to 19 between 1968 and 1986.
The 84-year old has been on bail since his conviction and left his home on the River Thames in Berkshire, west of London, by boat as he headed to the capital for sentencing, according to media reports.
The judge had asked for a medical report before considering his sentence, but warned Harris is likely to face jail time.
"In reality, given the conviction on all 12 counts, it is inevitable that the type of sentence that is uppermost in the court's mind is a custodial sentence and he must understand that," Judge Nigel Sweeney said.
The conviction of Harris caused shock and soul-searching in Britain and was a spectacular fall from grace for one of the country's best-loved performers.
He was the second person to be convicted under Operation Yewtree, a wide-ranging police investigation set up after allegations that another television star Jimmy Savile was a prolific abuser.
During the trial, Harris made the most of the charm that had enraptured millions of viewers over his career, singing part of his hit "Jake the Peg" and describing how he invented the "wobble board", an instrument he used in his song "Tie Me Kangaroo Down, Sport".
But proceedings darkened when witnesses, now in their 40s and 50s, took the stand to describe how Harris assaulted them when they were children or teenagers.
One of the victims, a childhood friend of his daughter Bindi, told the court that Harris first assaulted her when she was 13 and emerging from a shower on a trip to Hawaii.
Harris admitted having a sexual relationship with the woman, who cannot be named for legal reasons, but said it only began when she was an adult.
He told the court he was good at disguising his "dark side".
Reports suggest the entertainer, known for hit songs such as "Two Little Boys", could now be stripped of his CBE, one of the highest honours which Queen Elizabeth II can bestow, which he was awarded in 2006.
Harris painted the queen's portrait on her 80th birthday, hosted popular BBC television show "Animal Hospital", and was known for his catchphrase "Can you tell what it is yet?".
Since Harris' conviction, a dozen more women from Britain, Australia and New Zealand have made fresh allegations against him.
Maggie Barrie, a member of parliament in New Zealand, recalled on Friday how Harris groped her when she was a radio reporter preparing to interview him in the mid-1980s.
She said she never reported the incident because it was "on the absolute minor end of the scale" of the abuses committed by Harris and she had largely forgotten about it until his trial began.
But she told Radio New Zealand: "It seemed that he was pretty confident and arrogant if he thought he could try it on with someone like me.
"When you look back with hindsight, seems that even 30 years ago he had been getting away with a lot."