A black South African soldier who died nearly a century ago during World War I was on Sunday reburied alongside 600 of his white compatriots at the South African war memorial in northern France.
Private Myengwa Beleza was one of the first black South African soldiers to be killed in France during the 1914-1918 war.
He was among some 25,000 other black South Africans who had volunteered to serve as part of the Native Labour Corps.
Beleza died on November 27, 1916 and was buried in a civilian cemetery at the port city of Le Havre as South Africa's white minority government did not allow black soldiers to be buried at the memorial.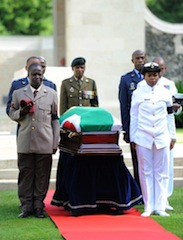 South African Deputy President Cyril Ramaphosa was among some 250 people who attended the ceremony at the Delville Wood memorial near the scene of a World War I battle in which many South African soldiers perished.
Beleza becomes the first black to be buried at the memorial — which was unveiled in 1926 — after his remains were exhumed on June 4 in a process organised by the South African embassy in France.
"The reinterment process is part of government efforts to restore the dignity particularly of those black South Africans who made an immense contribution towards world peace," Ramaphosa's spokesman Ronnie Mamoepa said.
South Africa was ruled by white minority governments for decades and became an international pariah for its segregationist apartheid policy which only ended in 1994 and led to the election of the country's first black president Nelson Mandela.

Load more