Israeli police have arrested a group of Jewish extremists in connection with the kidnap and murder of a Palestinian teenager who was burned to death in a suspected revenge killing.
The brutal murder on July 2 triggered four days of violent clashes which began in east Jerusalem and have spread to more than half a dozen Arab towns in Israel, with hordes of angry protesters hurling stones at riot police.
"Apparently the people arrested in relation to the case belong to an extremist Jewish group," an official said, speaking on condition of anonymity.
The Shin Bet internal security agency said the suspects were arrested on Sunday. Other details of the case were subjected to a strict gag order.
The arrests followed days of growing suspicion that Wednesday's murder was carried out by extremist Jews in revenge for last month's abduction and murder of three Israeli teenagers in the occupied West Bank.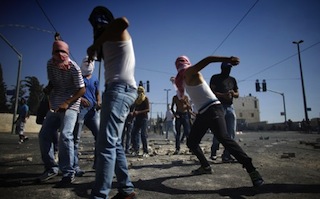 Tensions rose in the south Sunday with Gaza militants firing another 17 rockets and projectiles over the border, after a night of 10 air strikes.
Warplanes staged another strike on Sunday afternoon, which caused no casualties, Gazan officials said.
But Israel appeared bent on containing the situation, with Prime Minister Benjamin Netanyahu urging his cabinet to keep a cool head.
Overnight, Israel police arrested 35 people as protests over the teenager's murder swept through more than half a dozen Arab Israeli towns.
The violence erupted as a top Palestinian legal official said that initial findings from the post mortem showed there was smoke in 16-year-old Mohammed Abu Khder's lungs, indicating he was still alive when he was set on fire.
The grisly murder has sparked shock, disgust and an outpouring of condemnation from both Israeli and Palestinian leaders.
Palestinian president Mahmud Abbas said on Sunday he had asked UN Secretary General Ban Ki-moon to form "an international investigative committee on the terrorist crimes committed against the Palestinian people" by Israel, including Abu Khder's murder.
Until Sunday, police had said they were unsure of the motive for the killing, adding to the rising tension.
"Around 35 people were arrested overnight, almost half of them minors," police spokeswoman Luba Samri told AFP after violence raged into the early hours.
Twenty-two were detained in and around the northern city of Nazareth, Israel's most populous Arab town.
The rest were arrested in the so-called Triangle, a concentration of Arab towns and villages close to the northwestern sector of the Green Line — Taibe, Tira, Qalansuwa, Jaljulia and Umm el-Fahm.
"Arab workers have become a target for Israelis," Yousef Abu Mari, 18, told AFP in Taibe. "The situation is impossible and the government is keeping mum over it."
In a related development, a Jerusalem court freed a Palestinian American teenager to house arrest for nine days pending an investigation into stone-throwing allegations.
Tariq Abu Khder, 15, a cousin of the murdered teen, was arrested on Thursday in the east Jerusalem neighbourhood of Shuafat amid clashes, and his parents said he was badly beaten in police custody.
On Friday, a video surfaced on YouTube showing Israeli border police beating and kicking a handcuffed semi-conscious figure on the ground, before dragging him away.
Washington said it was "profoundly troubled" by the report, prompting the Israeli justice ministry's police investigations department to begin an urgent investigation.
Also Sunday, police and Shin Bet announced they had solved the murder of Shelly Dadon, who was stabbed to death in Migdal Haemek in northern Israel on May 1.
They named the suspect as Arab-Israeli taxi driver Hassin Halifa, 34, from Iblin in the Galilee, who picked up Dadon to driver her to a work interview.
Shin Bet said they believed Halifa killed 20-year-old Dadon for "nationalistic motives".
Meanwhile, Netanyahu demanded that his cabinet keep a cool head about growing tensions in Gaza.
Over the past three weeks, militants there have stepped up rocket fire on southern Israel, causing damage but no injuries, prompting demands for a new military operation in the coastal enclave.
So far, Israel has responded with air strikes, killing three militants, but Netanyahu has resisted calls for tougher action.
"Experience has proved that at moments like this, we have to act responsibly and with a cool head and not with harsh words and impetuousness," he told the weekly cabinet meeting.
Meanwhile, the army arrested a Palestinian in the flashpoint southern West Bank city of Hebron, with Israeli officials saying he was connected to the murder of the three Israeli teenagers.