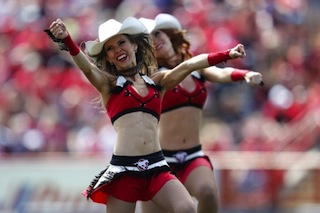 North Korea said Monday it would send a cheerleading squad to the coming Asian Games in South Korea, as it issued a fresh call for improved ties with Seoul following a series of missile tests.
A government statement carried by the North's official KCNA news agency said the despatch of the cheering delegation for the September 19-October 4 Asiad in Incheon would "help melt frozen North-South relations".
The North has sent such squads to the South before, most recently for the 2005 Asian Athletics Championships in Incheon, when one of the cheerleaders was Ri Sol-Ju, now the wife of North Korean leader Kim Jong-Un.
The South's Unification Ministry said preparations would be made to host the North Korean athletes and the cheering squad.
North Korea announced in May that it had decided to send a team to the Incheon Asiad, despite inter-Korean tensions over joint South Korea-US military exercises.
Pyongyang boycotted the 1988 Olympics in Seoul but sent athletes and cheerleaders to the 2002 Asian Games in South Korea's southern port city of Busan.
Monday's statement also urged a lowering of inter-Korean military tensions, saying it was time to end "reckless hostility and confrontation" and calling on Seoul to scrap its annual joint drills with the United States.
Last week the North's top military body had called for both sides to halt all hostile military activities — a suggestion Seoul dismissed as "nonsensical" in the light of Pyongyang's nuclear weapons programme.
The Unification Ministry was equally dismissive of the latest overture, accusing Pyongyang of trying "to shift responsibility" for the tensions on the Korean peninsula.
North Korea makes periodic peace proposals which are mostly seen as rhetorical devices for international consumption.
Monday's announcement came after North Korea conducted a series of missile test firings into the Sea of Japan (East Sea), drawing protests from Tokyo and Seoul.
It also coincided with an ongoing tour of front-line islands by Kim Jong-Un.
On Saturday, Kim had monitored an apparently large-scale army, navy and air force exercise involving a mock assault on a South Korean island.