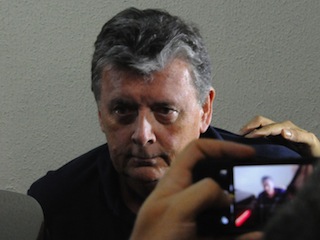 The director from the FIFA partner company handling World Cup hospitality services was released from Brazilian police custody Tuesday after being arrested in an investigation into an illegal match ticket scheme.
Ray Whelan, a 64-year old British director of Zurich-based Match Services, was arrested in Rio de Janeiro's beachfront Copacabana Palace Hotel on Monday on suspicion of being at the center of a ticket scalping ring.
Rio police said in a statement that Whelan, a former agent of English football legend Bobby Charlton, was granted provisional release early Tuesday but that he still faces accusations of facilitating the distribution of tickets for their illegal sale.
A spokesman for Match said Whelan was innocent and would resume his World Cup work while cooperating with the police.
"Match have complete faith that the facts will establish that he has not violated any laws," the company's media director Andreas Herren said in a statement. "Match will continue to fully support all police investigations, which we firmly believe will fully exonerate Ray."
"In the meantime, Ray Whelan, as well as the rest of the Match personnel will continue to work on our operational areas of responsibility in order to deliver a successful 2014 FIFA World Cup Brazil."
Rio police had identified Whelan as an executive at Match Hospitality but FIFA specified that he was director of the accommodation office of a sister company, Match Services.
Match Services is in charge of providing services related to ticketing, accommodations and events, while Match Hospitality has the exclusive right to sell ticket-inclusive hospitality packages.
The arrest came as Brazil and Germany prepared to play the cup's first semi-final in Belo Horizonte on Tuesday. Argentina and the Netherlands will face off for the final's last spot on Wednesday in Sao Paulo.
Police say the international scalping syndicate sold thousands of tickets worth millions of dollars, going back to the 2002 World Cup in Japan and South Korea.
A French-Algerian suspect, Mohamadou Lamine Fofana, was initially thought to be the scheme's ringleader after he was among 11 people arrested last week in Rio and Sao Paulo.
But suspicions turned toward an individual at Match, and investigators say they intercepted 900 calls between Whelan and Fofana.
The scandal is the latest to hit FIFA, which is already battling allegations that members accepted bribes from a Qatari football official to secure support for the emirate's campaign to get the 2022 World Cup finals.
One of Match Hospitality's shareholders is Swiss-based Infront Sports and Media, headed by Philippe Blatter, the nephew of FIFA president Sepp Blatter.