The new pedestrian bridge constructed on Apete River in Ibadan, the Oyo State capital, has been opened for public use.
The State Commissioner for Works, Bimbo Kolade, told newsmen on Tuesday shortly after inspecting the bridge that it would, however, be open for use of pedestrians only.
The commissioner explained that though the bridge was strong enough for vehicular activities, it would only be used by pedestrians to give room for the continuation of the main bridge.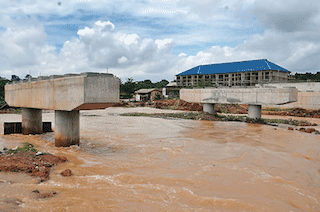 Kolade assured the people of Apete that another pedestrian bridge would be constructed on the other side of the river within the next two weeks.
He said the second pedestrian bridge would also serve commercial motorcyclists, pending the completion of the main bridge.
"The bridge is solid enough for vehicular activities but because of the need to continue work on the main bridge, the pedestrian bridge will be restricted to vehicular activities for now.
"It will only be opened for pedestrian activities; we will not even allow motorcyclists to use it.
"We are appealing to our people to abide by the instruction on the use of the bridge for another two weeks, as a similar bridge will be constructed at the other side," he said.
The commissioner also said work was underway on the 3.5 km Ijokodo-Poly-Apete Road, adding that the drainage system on the road had been completed.
He urged residents of the area to be patient pending the completion of the road.