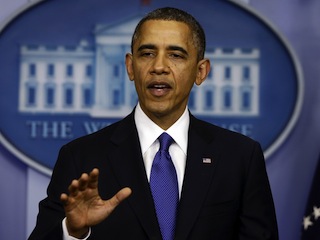 Fresh spying accusations are undermining US efforts to mend fences with Germany, only two weeks after both allies launched a diplomatic initiative to overcome the NSA surveillance row.
The White House on Wednesday stayed mum on the alleged espionage, as German lawmakers vented their anger during a visit to Washington and criticized perceived indifference on this issue in the United States.
"We find that our interlocutors have very little awareness of the problem," Norbert Roettgen, chairman of Germany's parliamentary foreign affairs committee, told journalists after talks with members of Congress and national security officials.
Roettgen complained that his delegation did not receive "answers" about the recent spying scandal, warning that the US intelligence activity in Germany could lead to a "frozen conflict" in the transatlantic relationship.
Fellow lawmaker Niels Annen deplored that the new accusations undermined "good intentions" behind the so-called cyber dialogue, a diplomatic forum Germany and the US launched on June 27 to address their disagreements over intelligence gathering and data protection.
"We had the NSA surveillance programs, we had the tapping of Merkel's cell phone and now this spy story comes on top of it," Annen told AFP.
German authorities on Wednesday confirmed the second possible spying case in less than a week after investigators questioned a man who, local media reported, is a German military employee accused of passing secrets to the United States.
The case follows Friday's news that a 31-year-old German BND intelligence service operative had been arrested two days earlier, suspected of having sold over 200 documents to the CIA.
White House spokesman Josh Earnest reiterated that he was "not in a position to confirm or deny or even comment on reports related to reported intelligence activities."
But he told journalists that "a couple of conversations" between German and US diplomats as well as law enforcement and intelligence officials had taken place "to try to appropriately resolve some of the circumstances."
Merkel had confirmed earlier that her intelligence services coordinator spoke by phone with CIA chief John Brennan, and a senior German foreign ministry official on Wednesday met for a second time in five days with US ambassador John B. Emerson.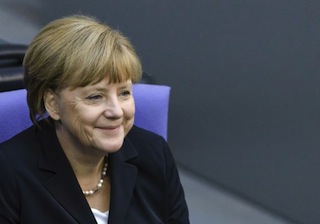 A phone call between Merkel and President Barack Obama on the spying row was not scheduled "at this point," Earnest said.
Some experts expressed doubt that the efforts behind closed doors would be enough to cool tensions with Germany.
"I think the only way to solve it is for Obama to say something but I don't think he can or will," Jack Janes of the American Institute of Contemporary German Studies told AFP.
"That leaves this either for the State Department to try to sooth feelings or in the circle of legislators on both sides of the Atlantic, and there is not much interest in the Congress to engage here," he added, predicting that "the whole thing will fester for a long time to come."
While there was concern in the White House at damage to the vital US-Germany relationship, there also appeared to be some private impatience among some officials at the way the Germans had handled the episode.
Previously, and privately, top officials have argued that many nations conduct espionage operations against one another in the normal course of business, and that the US government is a prime target itself, arguing in effect that everyone is fair game.
Karen Donfried, a former senior director for European affairs on Obama's National Security Council, cautioned that "we still do not know about the truth" of the recent spying allegations.
But she acknowledged that there was "still a great deal of fallout from last year's NSA disclosures."
The United States sees Germany as "a very important ally" on economic issues as well as foreign policy issues like Ukraine or Afghanistan, Donfried, who now leads the Washington-based think tank German Marshall Fund, told AFP.
"It seems to me that we don't want to narrow the relationship just" to the issue of spying, she added.