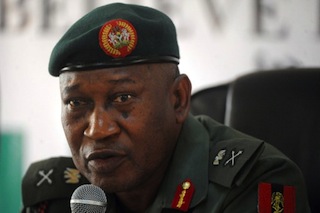 The Defence Headquarters on Friday said that troops had uncovered more weapons from underground armouries in Balmo Forest in Borno state during a mopping up operations.
This was contained in a statement issued by Major General Chris Olukolade, Director of Defence information. The statement said that the operation was yielding more discoveries of arms stockpiled in underground cells in the forest.
It said that troops who were excavating various sites in the forest in search of hidden weapons had so far recovered over 10 rifles along with parts and accessories.
The statement also said that the troops also recovered more than 80 General Purpose Machine Guns, tubes of Rocket Propelled Grenades and Launchers, cables, wires and thousands of rounds of assorted ammunition.
Also recovered in the search were uniforms of security agencies including protective clothing. "Suspects captured in the forest have been taken into custody and are volunteering information linking the activities in the forest with other terrorist activities in the country," it said.
The statement said that the mopping up operation would be sustained.

Load more