Brown Ebewele, former Commissioner of Sports in Edo, has described as unfortunate the withdrawal of the court case against the Aminu Maigari-led board of the Nigeria Football Association (NFA).
Mrs Ebiakpo Baribote on Wednesday withdrew a case she filed against the NFA at a High Court in Jos to avoid a ban on Nigeria from FIFA.
But Ebewele told NAN on Thursday in Abuja that Nigeria should not continue to obey FIFA at the detriment of its own laws.
"For FIFA to say that a government that gives subvention to a federation and the government is asking for accountability and FIFA is saying you are sanctioned, that is corruption itself.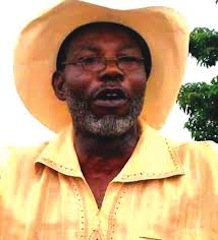 "That means FIFA is corrupt; that is why they are supporting corruption. But it's a shame that as big as this country is, the biggest black race in the world will make a pronouncement today and because of FIFA, you are reversing your position; it's a big shame."
Ebewele, popularly called "Juju man" stressed that other countries make money from football while Nigeria spent without accountability.
"If other countries are making money from football, Nigeria is spending money on football. So what is the interest, what is the benefit of football, football, football when there is nothing that comes from it.
"Its either we get scandal from it or we get fraud from it; so what is Nigeria benefitting so much from it that it cannot forget football for one or three months.
"It is even time for some of these third world countries to come together and say they are sick and tired of FIFA manipulation.
"America changed some of the FIFA rules when they wanted to host the World Cup. America told them that this goal-line technology must be introduced, if you don't introduce it we are not in your business.
"It was America that told them that this traditional uniform of referees black and black is outdated and that was why designers came in.
"Nigerians are very intelligent people; we cannot because of corruption allow some individuals to manipulate us; it's all about manipulation."
NAN gathered that Baribote, the proprietress of Nembe City Football Club, was persuaded by the National Sports Commission and House of Reps to withdraw the case in the interest of Nigeria.
NAN reports that FIFA had suspended Nigeria from all international football engagements following a court order that restrained the board from performing its duties.
It went further to kick against the arrest of NFA chairman Maigari over corruption allegation levelled against the board by some stakeholders.
Load more