The Millennium Development Goals (MDGs) says the Federal Government has approved N25 billion in 250 Local Government Areas (LGAs) for implementation of projects.
Dr Precious Gbeneol, the Special Assistant to the President on MDGs told the News Agency of Nigeria (NAN) on Tuesday in Abuja.
She said that the N25 billion would be matched by another N25 billion from the participating 250 local governments in the implementation of projects in various LGAs.
She said that the local governments had been able to execute the 2013 funds appropriated, adding that it would give them access to the 2014 funds.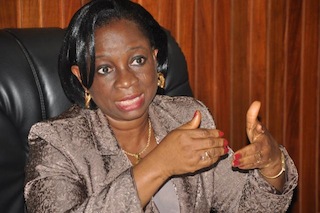 "We've been able to do very well in the 2013 local government projects. We took 201 local governments in 2013; we are taking 250 local governments in 2014.
"In 2011, 113 local governments were funded to the tune of N11.3 billion by the Federal Government; the states and LGAs also made their N11.3 billion counterpart contributions.
"In 2012, the funding was spread to cover 148 LGAs. N14.8 billion was given by the Federal Government, which was also counterpart funded.
"In 2013, a total of 210 LGAs benefited from N42 billion projects with the Federal Government and LGAs both contributing N21 billion each.
"The president has equally approved the disbursement of N25 billion, which will be matched by another N25billion from the participating 250 local governments.
"That is, for a period of a year, we are looking at N50 billion spread among 250 local governments at 100million from the Federal Government and N100 million from the state governments.
"So, with N200 million, each local government will be able to tackle projects which the people need in the drive to achieve the MDGs between now and in 2015," she said.
Gbeneol added that the LGAs had been able to completely execute the 2013 funds, saying "if the projects are not completed, they will not be able to access 2014 funds."
She said that the MDGs had made remarkable improvement in the health, water, sanitation and education sectors. She said that in 2013 alone, more than 12,342 water projects were constructed while 2,734 ventilated pit toilets were improved.
She said that the MDGs renovated 5,026 health facilities, trained 4,710 village health workers and provided vehicles and ambulances to health centre's across LGAs in the country.
"About 3,136 blocks of class rooms were constructed, 2,087 exercise books and 81,063 benches and chairs were distributed through the LGAs, in various primary schools," she said.

Load more