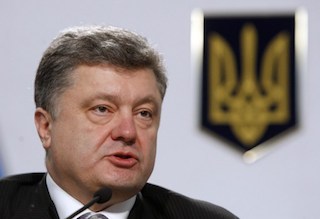 Ukrainian President Petro Poroshenko asked parliament to pass a vote of confidence in the government on Friday after the shock resignation of premier Arseniy Yatsenyuk piled political uncertainty onto the crisis wracking the country.
"I hope that the strong emotions will calm down and be trumped by cold reason and a sense of responsibility and that the entire Ukrainian cabinet will continue its work," Poroshenko said in a statement released late Thursday.
Yatsenyuk quit in protest Thursday after the ruling European Choice coalition collapsed following the withdrawal of several parties, a move that paved the way for long-awaited parliamentary polls to be announced.
Ukraine's cabinet on Friday elevated deputy prime minister Volodymyr Groysman — who has been coordinating Kiev's response to the downing of Malaysian flight MH17 in east Ukraine — to the post of acting premier.
Pro-Western Yatsenyuk — who helped steer the country through upheaval since the ouster of Kremlin-backed leader Viktor Yanukovych in February — lashed out at the decision to pull the plug on the coalition as Kiev is struggling to end a bloody separatist insurrection tearing apart the east.
The break up of the parliamentary majority gives Poroshenko — who was elected in May — the right over the next month to announce a fresh parliamentary election, which has been on the cards since Yanukovych's toppling.

Load more