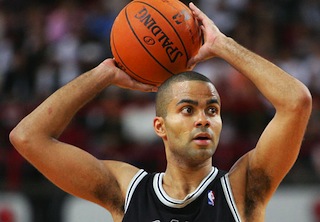 San Antonio Spurs guard Tony Parker has signed a multi-year contract extension to remain with the reigning NBA champions, the team announced on Friday.
No contract terms were released but the 32-year old Frenchman's deal reportedly was for three years at $45 million (33.5 million euros), according to Yahoo Sports.
Parker, a 13-year NBA veteran, averaged a team-high 16.7 points, 5.7 assists and 2.3 rebounds last season as he led the Spurs to their fifth NBA title, the fourth with Parker on the squad.
Parker, who led the Spurs in scoring for the fourth consecutive season, was San Antonio's lone player in last season's NBA All-Star Game.
Since being selected by the Spurs with the 28th overall pick in the 2001 NBA Draft, Parker has averaged 17.1 points, 6.0 assists and 3.0 rebounds in 940 regular-season games.
Over 196 playoff appearances, Parker has averaged 18.9 points, 5.3 assists and 3.0 rebounds.
The Spurs won their first NBA crown in 1999 and added titles in 2003, 2005, 2007 and this year. Parker was the NBA Finals Most Valuable Player in 2007.