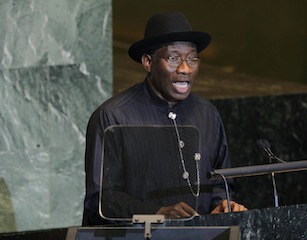 The Ministry of Foreign Affairs has advised Nigerian students in eastern Ukraine to vacate the area due to fierce violence and unrest in the region.
Ambassador Abdulaziz Dankano, Under-Secretary in charge of Economy and Consular in the ministry, gave the advice in an interview with NAN on Sunday in Abuja.
Dankano said that the advice became necessary following the deteriorating security situation in the war-torn region.
He said that no fewer than 146 Nigerian students were still in eastern Ukrainian cities of Donetsk and Lungansk despite repeated advisories from the Nigerian mission in Kiev.
According to him, over 1000 Nigerian students were in different tertiary institutions in the region and many heeded the repeated advisories issued by the Nigerian mission in Kiev.
"But we still have 146 students who have refused to vacate the territory and the situation in the region is not getting better because of the fierce fighting between the separatists and Ukrainian military," he said.
NAN recalls that crisis erupted in eastern Ukraine after rebels declared independence from the new government in Kiev.
Russia, which annexed Ukraine's Crimea region in March has been accused of arming the rebels and has been targeted by US and European Union for sanctions.
Last month, UN Human Rights Chief, Navi Pillay, had said that no fewer than 1,129 people had been killed and 3,442 others wounded in the violent conflicts in eastern Ukraine since mid-April.
Dankano also confirmed that nine Nigerian students kidnapped in eastern Ukraine on July 17 had all regained freedom.
He identified the students as Femi Oredugba, Wasiu Rasaki, Oyinola Sheriff, Ahmed Salis and Semiu Mabadeje. Others are Chigozie Amaobi, Daniel Eitokpah, Callistus Ezike and Agihibenma Wayne.
He said that the students regained freedom on July 24, adding that the Nigerian mission in Kiev played a "key role" in securing their release.
"We made informal contacts with the rebels through members of the Nigerian community familiar with that region.
"Since the Kiev government is not in control of the region, our diplomats were not physically present in the region because of security concerns," he explained.
Dankano did not confirm or deny whether ransom was paid to the rebels before the students were released.
On Libya, Dankano told NAN that the ministry was closely monitoring the situation in the country amid violent clashes between rival militias.
He said that the Federal government had not taken any decision to evacuate Nigerians in the country.
NAN recalls that thousands of foreign workers, including British, France, Germany citizens have left Libya, and the US has asked its citizens to leave the country.
Also, the UN has withdrawn its staff because of the deteriorating security in the country.
Dankano recalled that the Federal government evacuated over 2000 Nigerians from the country in 2011 when its late president, Muammar Ghadafi, was overthrown.