Daniels Ekugo
Global diaper manufacturer, Kimberly Clark has introduced Huggies Pure & Natural diaper into the Nigerian market.
Speaking during a hospital sensitization tour at the Mezonel Hospital, Surulere, Lagos, the Senior Category Manager, Kimberly Clark West Africa, Chidinma Uwadiae disclosed that the product was made specifically for Nigeria babies. She added that the country's climatic condition was taken into consideration while sourcing for materials and throughout the production process of the product.
"Huggies Pure and Natural diaper is specifically made for Nigerian and African new born babies putting into consideration the climatic condition. It is in line with our resolve to deliver our best for Nigerian and African babies," Uwadiae stated.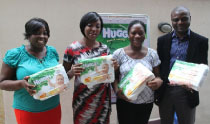 Speaking further she stressed that the company has embarked on this activation for a few months now to familiarize the product with mothers. "Relating with the mothers, we found out that the number one un-met need is a diaper that provides superior dryness, and also understands the sensitivity of their new born babies, this is what Huggies Pure and Natural stands for. Nigerian moms have finally met what they are craving for, a diaper that is soft, breathable and gentle.
The new Huggies Pure & Natural diaper is hypoallergenic, latex and fragrance free and features a breathable outer cover that includes organic cotton. The liner includes natural Aloe and Vitamin E materials from renewable sources. The new diaper comes in two sizes.