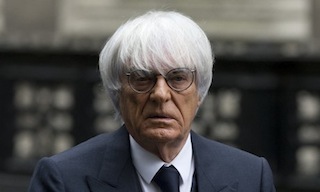 Formula One tycoon Bernie Ecclestone on Wednesday rejected criticism of a $100-million payment he made to end his trial in Germany on bribery charges and praised the capitalist system.
A day after the court case in Munich was spectacularly halted, the British billionaire told the German press that he could not "understand" people saying he had bought a dismissal.
"To me it looks as if the judges, in their opinion, didn't really have another choice," the 83-year-old told mass circulation Bild daily, in comments published in German.
He also expressed regret over the high sum he agreed to pay to end the four-month trial under an accord struck with prosecutors and accepted by the tribunal.
"It's certainly a bit unfortunate to pay so much money. But it's more unfortunate not to have the money.
"But actually I find this capitalist system good," he told Bild in an interview from London, just hours after the court's decision Tuesday.
The $100-million (75-million-euro) accord is believed to be the largest of its kind in German history.
Ecclestone went on trial in April on charges of paying a $44-million bribe to a Bavarian state bank executive for help in maintaining his four-decade grip on F1.
He also told Bild it had not been "funny" having to travel to Munich for two or three days a week since April for the court proceedings, but he was now fully back at F1.
"But I want to say one thing, I've fallen in love a bit with Munich and its people," he added, saying he would like to return soon.
"Perhaps even for Oktoberfest," he said, referring to the legendary beer festival in the Bavarian city that begins next month.
German commentators on Wednesday were highly critical of the trial's outcome, with Bild saying "It's a mockery! Where's the justice in this?"
The Munich-based Sueddeutsche Zeitung referred to "cash-till justice" and said the Ecclestone outcome was a "peak in the still young history of the commercialisation of criminal proceedings".
Amid calls to modify the legal proviso allowing a criminal case to be suspended in some instances in exchange for payment, a justice ministry spokeswoman cautioned against a debate on changing the system based just on a single case.
But she also told reporters the practice was a "normal occurrence" in German courts and happened "very frequently" although usually with far smaller sums.
Under the legal provision, any settlement — which the defence, prosecution and the court must all agree to, and which is calculated according to a defendant's financial means — should take into account the public interest and the gravity of guilt.