The United States on Thursday ordered families of its diplomats in Liberia to leave and warned against non-essential travel to the country because of the growing Ebola outbreak, amidst fears that the disease could spread to the US itself.
Ebola's spread to the United States is "inevitable" due to the nature of global airline travel, but any outbreak is not likely to be large, US health authorities said.
Already one man with dual US-Liberian citizenship has died from Ebola, after becoming sick on a plane from Monrovia to Lagos and exposing as many as seven other people in Nigeria.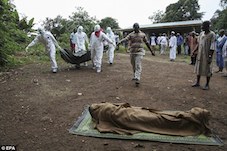 More cases of Ebola moving across borders via air travel are expected, as West Africa faces the largest outbreak of the hemorrhagic virus in history, said Tom Frieden, the head of the US Centre for Disease Control and Prevention.
The virus spreads by close contact with bodily fluids and has killed 932 people and infected more than 1,700 since March in Sierra Leone, Guinea, Nigeria and Liberia.
"It is certainly possible that we could have ill people in the US who develop Ebola after having been exposed elsewhere," Frieden told a hearing of the House Subcommittee on Africa, Global Health, Global Human Rights and International Organizations.
"We are all connected and inevitably there will be travellers, American citizens and others who go from these three countries — or from Lagos if it doesn't get it under control — and are here with symptoms," he said.
"But we are confident that there will not be a large Ebola outbreak in the US."
A State Department statement said U.S. staff would remain on active duty at the embassy in Liberia and additional staff were being sent to help the government tackle the outbreak of the deadly virus.
"The latest wave of the outbreak has overwhelmed Liberia's health system and most health facilities lack sufficient staff or resources to address the continuing transmission" of the disease, it said.
Extra U.S. personnel going to Monrovia include 12 disease prevention specialists from the Centers for Disease Control and Prevention and a 13-member disaster assistance response team from USAID to help the government fight the outbreak, State Department spokeswoman Marie Harf said.
Liberian President Ellen Johnson-Sirleaf announced a state of emergency on Wednesday effective for 90 days that allows the government to curtail civil rights and deploy troops and police to impose quarantines on badly affected communities.
The epidemic has also hit Sierra Leone, Guinea and Nigeria and has claimed more than 900 lives, according to the World Health Organization. And the latest report is that two persons are suspected to have been stricken by the virus in Benin Republic.
There is no treatment or vaccine for Ebola, but it can be contained if patients are swiftly isolated and adequate protective measures are used, the CDC official said.
Healthcare workers treating Ebola patients should wear goggles, face masks, gloves and protective gowns, according to CDC guidelines.