Ekiti State Governor, Dr. Kayode Fayemi, has expressed sadness on the death of eminent historian and former Vice Chancellor of the University of Lagos, Emeritus Professor Jacob Festus Ade-Ajayi, who passed on Sunday, 10 August, 2014.
Fayemi in a statement by his Chief Press Secretary, Mr. Olayinka Oyebode, described the Ikole-Ekiti-born renowned scholar and administrator as an intellectual giant whose legacies would continue to benefit generations to come.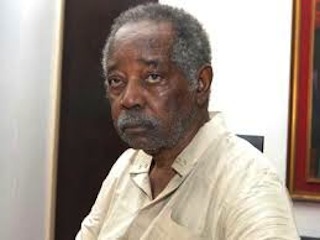 The Governor described the late Prof Ade-Ajayi as a man of integrity who built a reputation of hard work, honesty and represented the core values of Ekiti.
 He said the deceased was a great Ekiti Ambassador who positively projected the image of the State and that of Nigeria all over the world. He added that the renowned historian showed tremendous concern for the growth and development of Ekiti State.
 Fayemi recalled his last engagement with the Emeritus Professor of History shortly after the June 21 governorship election in the state, describing him as a man of immense wisdom, who was ever willing to encourage and mentor the younger ones.
 Describing Ade-Ajayi as "Professor of  Professors", Fayemi noted that the late History icon mentored numerous scholars who had contributed immensely to teaching, learning and research all over the world.
"The works of this great scholar in the field of History have become reference points to scholars, researchers, students and the general reading public," the Governor said, adding that Ade-Ajayi's tenure as Vice Chancellor of the University of Lagos recorded unprecedented successes and still remains a reference point in the history of the institution.
 He noted that the vacuum created by the deceased would be very difficult to fill given his impact in academia, administration, culture and other areas of human endeavour.
 "On behalf of the government and good people of Ekiti State, I send my condolences to the family of this great man and we pray God to grant them the fortitude to bear the loss."
Also reacting to the passage of the renowned historian yesterday, the Vice-Chancellor, University of Ibadan, Professor Isaac Folorunso Adewole, described Ade-Ajayi as an intellectual colossus and fountain of knowledge, who blazed the trail in establishing the validity of African history as an academic discipline.
Former Head, Department of history, University of Ibadan, Professor Tayo Adesina, also described the late historian as "a phenomenon,'" and lamented that Nigeria, indeed Africa, has lost "a profound historian."