Femi Anjorin
The General Overseer of the Redeemed Christian Church of God, RCCG,  Pastor Enoch Adejare Adeboye has ordained over 1000 pastors of the church.
The event took place during the 62nd Annual Convention of the church at the Redemption Camp on Lagos-Ibadan expressway.
 Pastor Adeboye made this known on Sunday during the ordination service that brought the convention to conclusion.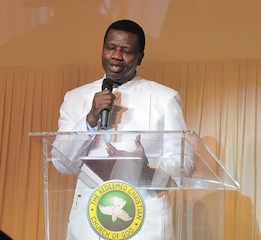 He said: "We have come to the most important moment of this year's convention, where the church will be ordaining 1101 former Assistant Pastors to the office of the full Pastor of the church.
"The office of Pastor is the highest anyone can get to in the Redeemed Christian Church of God, the General Overseer himself is a Pastor."
He urged the congregation not to be onlookers, rather to start praying for the men of God that were being ordained.
Some of the assistant pastors had spent more than eight years before their ordination last Sunday.
Delivering the ordination sermon, one of the newly appointed members of the Governing Council of the church who also doubles as the Special Assistant to the General Overseer, SATGO, in charge of administration and personnel, Pastor Johnson Funso Odesola, urged the newly ordained pastors to be obedient and strive for perfection always.
He advised them to be filled with the Holy Spirit which will make the race easy for them to run.
Meanwhile, during the week long convention, 111 babies were born, including a set of twins. The babies comprised 63 boys and 48 girls.
All the babies and their mothers were in good condition.
Pastor Adeboye thanked the Almighty God and all those who attended this year's convention in spite the efforts by the devil to ensure the convention did not hold.