Eight Chinese medical workers who treated Ebola patients have been quarantined in Sierra Leone, as health experts grapple with ethical questions over the use of experimental drugs to combat the killer virus.
Gripped by panic, west African nations battling the tropical disease ramped up drastic containment measures that have caused transport chaos, price hikes and food shortages.
The World Health Organization has scrambled to draft guidelines for the use of experimental medicines at a meeting in Geneva as the death toll from the worst Ebola outbreak in history neared 1,000.
It is to present its conclusions on Tuesday.
Liberia meanwhile said it had requested samples of an experimental drug and that supplies would be brought in the country "by a representative of the US government" later this week.
There is currently no available cure or vaccine for Ebola, which the WHO has declared a global public health emergency.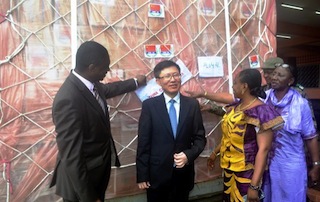 The disease has hit doctors hard in the ill-equipped and fragile health systems of the worst-hit west African nations of Guinea, Liberia and Sierra Leone.
China's ambassador to Sierra Leone Zhao Yanbo said that seven doctors and one nurse who treated Ebola patients had been placed under quarantine, but would not be drawn on whether they were displaying symptoms of the disease.
In addition 24 nurses in Sierra Leone, most from the military hospital in the capital, have also been quarantined, according to Yanbo and hospital director Sahr Foday.
Foday said a senior physician at Freetown's Connaught Hospital had contracted Ebola but was responding well to treatment. The nation's sole virologist, who was at the forefront of its battle against the epidemic, died from Ebola last month.
The use of an experimental drug called ZMapp on two Americans and a Spanish priest infected with the virus while working in Africa has opened up an intense ethical debate.