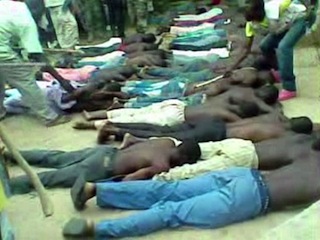 Hundreds of people who escaped a Boko Haram attack need urgent help, a local lawmaker said on Wednesday, as those still hiding on a mountain a week later said food and water supplies had run out.
Islamist militants attacked Gwoza in Borno State last Wednesday, leaving dozens of people dead and sending others fleeing for their lives, some to hills near the border with Cameroon. The government said on Tuesday that operations were "ongoing," with indications the military had been unable to wrest back control of the town, 135 kilometres (80 miles) from the state capital Maiduguri.
But Senator Ali Ndume, who represents Borno South in the National Assembly, warned of a humanitarian emergency.
"Honestly, our people need help. The only people that are living in Gwoza are those that are either too old to walk or too young to flee.
"They have no water to drink because the boreholes are no longer functioning. They also have no food to eat. There are over 50,000 people in Gwoza and more than 270,000 in the local government area but all of them are devastated," he said.
"Something urgent needs to be done." Nigeria's National Emergency Management Agency (NEMA) said 10,000 people had been displaced because of the attack and they were providing assistance to those who had escaped to Maiduguri or Madagali, in neighbouring Adamawa state.
NEMA spokesman Manzo Ezekiel told AFP that teams had so far been unable to reach Gwoza or the mountain because of the fighting.
Gwoza residents described how it took them four days to get to Maiduguri, leaving behind destroyed houses and dozens of decomposing bodies on the streets.
One man who fled to the Mandara mountain told reporters by phone: "Most of us, mostly men are here and for nearly eight days, we have no food, no water to drink and no shelter.
"The few women among us are falling sick but we only eat wild fruits and we are being beaten by rain," he said.
Another said he hoped help would reach them soon but added: "Our biggest fear is that the insurgents may trail us. Among us are some soldiers that ran out of ammunition."
Pushing back Boko Haram from Gwoza has been hindered by a series of protests by military wives, who burned tyres and blocked roads outside a Maiduguri barracks to prevent their husbands leaving for Gwoza.
The women allege that the soldiers were ill-equipped to fight the insurgents. The government has dismissed the claim.