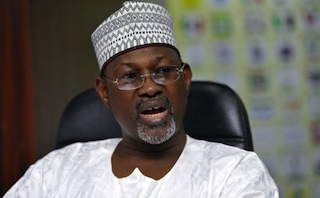 The Independent National Electoral Commission (INEC) on Wednesday announced the timetable for the conduct of Adamawa governorship by-election scheduled to hold on October 11.
NAN recalls that the commission fixed the date following the impeachment of Governor Murtala Nyako and the resignation of his Deputy, Mr Bala Ngilari.
The Speaker of the state House of Assembly, Alhaji Umaru Fintiri, became the Acting Governor. The Resident Electoral Commissioner, Mr Kasim Gaidam, told NAN that under the timetable, October 9 was the deadline for campaigns.
He said the timetable also showed that the commission would publish notice of the election in selected national dailies on August 15.
It further showed that the deadline for the conduct of party primaries and resolution of potential disputes arising from them was September 15.
He said that September 17 was fixed as the deadline for the submission of forms CF002, CF001 and nomination forms at the INEC headquarters.
According to him, September 23 stands as deadline for the publication of personal particulars of candidates.
"September 29 is the deadline for the submission of names of party agents for the election to the electoral officer of the local government areas."