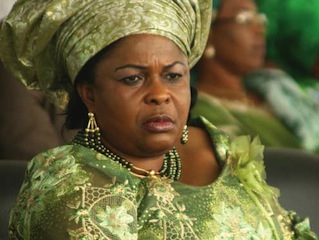 Dame Patience Jonathan, wife of the president has inaugurated a research and fishing vessel, expected to reposition the marine and fisheries sub-sector of the Nigeria's economy in Poland.
This was contained in a statement signed by her Media Assistant in Abuja on Wednesday.
It stated that the vessel, built in Poland and acquired by the Nigerian Institute of Oceanography and Marine Research, was also christened by Dame Jonathan at the WISLA Shipyard in Gdansk, Poland.
The first lady said that the acquisition of the vessel would enhance exploration. She also said that the vessel would boost Nigeria's capacity in Marine and Oceanography research for sustainable development and management of the country's vast resources.
Jonathan expressed happiness that when put to use, the vessel would further drive the agricultural policy of President Goodluck Jonathan to make Nigeria self-sufficient in food production, especially fish production.
Similarly, the statement said the inauguration was attended by the Minister of Agriculture, Dr Akinwunmi Adesina, and Nigeria's Ambassador to Poland, Dr Samuel Jimba.
Akinwunmi and Jimba both expressed appreciation to the president for his efforts to ensure a secured and efficient marine coastline as an ingredient of national development.
It said they agreed that the birth of the vessel would strengthen the economic relationship between Nigeria and Poland.
The vessel is expected to commence its sail to Nigeria soonest.