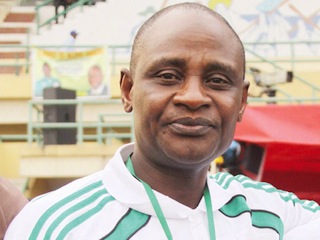 The Minister of Sports, Tammy Danagogo, on Friday said that Aminu Maigari, the impeached Chairman of the Nigeria Football Association (NFA), would return to the office on Monday.
Danagogo said in Abuja after Maigari's visit that the return was based on the agreement of all parties involved in the crisis to ensure that the problems were solved.
NAN recalls that the Board of the NFA had on 24 July impeached Maigari on grounds of financial misappropriation, misapplication and maladministration.
The board had since then appointed the first Vice Chairman, Mike Umeh, to act as the chairman.
But FIFA, the world football governing body, had requested for an explanation on the processes that led to Maigari's impeachment which the board had replied.
However, FIFA in another letter had advised that Maigari be allowed to preside over the forthcoming NFA congress on August 26.
The minister told newsmen that the crisis in the football house was over.
"Before the letter from FIFA, there was a stakeholder's advice to both Maigari and Umeh, that with just two weeks to the NFA elections, they should work together.
"What we have been trying to do as stakeholders since the crisis started is to ensure that all these problems are solved.
"And by the grace of God, we have reached that stage now where we have gotten Maiagri's commitment and his board members.
"From now onward, stories about fights and crisis in the NFA is over and Maigari will return to office on Monday," Danagogo said.
He said the board members had resolved to work with Maigari to ensure that the electoral process was smooth for credible leaders to emerge.
"I met with the board members a couple of days ago and we have resolved that they are going to work together peacefully.
"They said they will make sure that the electoral process goes on so that more people will have forms to contest so that the best leaders of our football can emerge without any form of bias or restriction.
"What President Goodluck Jonathan has done in this country is that processes leading to elections will be free and fair, manifestly transparent, that there will be no favoured candidate.
"What Maigari has assured me now is that he will copy the president's example and we will support him to make sure that there is that free and fair election," Danagogo said.