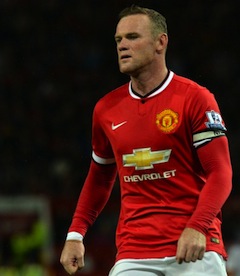 Wayne Rooney believes he is ready to play a lead role in Louis van Gaal's Manchester United revolution after being appointed as the team's new captain.
Van Gaal named Rooney as the United skipper on Tuesday and he will wear the armband as permanent captain for the first time in Saturday's Premier League opener against Swansea at Old Trafford.
Before handing him the armband, United manager van Gaal reminded Rooney he must be a role model for United players and fans both on the pitch and off it.
His indiscipline has cost him in the past, but Rooney says he is now up to the task of being a responsible and successful captain.
"It's a massive role to take on, I'm aware of that, the responsibility of it. I feel I'm ready at this stage in my career to do it," Rooney told United Uncovered.
"I spoke to the manager and he decided that I was right to take the role which I am delighted with. It's a great honour.
"I will perform the role as best I can and hopefully help the team to be successful."
Rooney has been stand-in captain on several occasions during his 10-year spell at United, but this is the first time he has been given the honour on a full-time basis.
However, he can draw from the experience of playing under the captaincy of inspirational leaders like Roy Keane, John Terry and Steven Gerrard for both United and England.
"I've played under some great captains for club and country so I will take a little bit of what they have brought to the role and try to use that," Rooney added.
"Then I'll try to lead the players on the pitch with hard work, dedication, and that's what we really want to do — we want to show the fans that we care and want to win."