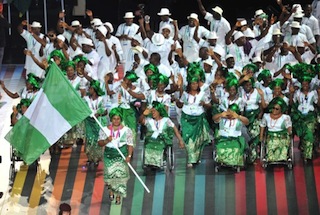 Nigeria's contingent to the 2nd Summer Youth Olympic Games in Nanjing, China, shunned the opening ceremony on Saturday and are due to depart China on Sunday, a top official said .
Amb. Ayo Otepola, Nigeria's Consul General in Shanghai, confirmed this in an e-mail sent to NAN in Abuja.
NAN recalls that Team Nigeria withdrew from the Olympics after its athletes were isolated and barred from training due to concerns over Ebola disease.
Otepola, who was in Nanjing to coordinate "Nigeria's orderly withdrawal", described the host country's approach to the Ebola as "unusual" and "demoralising".
He insisted that China's approach to the Ebola virus was different from the just-concluded Commonwealth Games in Scotland.
"The athletes complained of total stigmatisation, they were quarantined and this action demoralised them.
"One of them said the treatment was like that of someone carrying Ebola virus and they were being treated everywhere with suspicion.
"They were also required to submit themselves twice every day for medical examination.
"This is unusual because they had been examined initially at the port of entry and on arrival at the games village," Otepola said in the email.
He recalled the Commonwealth Games in Scotland. "The hosts gathered experts to determine participation of Ebola-infected countries and the risk of infection.
"The experts determined that the risk of a visitor coming from Sierra Leone with Ebola remains very low.
"Also the risk of exportation of the virus to a non-endemic country has been historically very rare.
"It is based on this informed decision that countries like Sierra Leone participated at the games without any excessive measures that smirks of discrimination."
Otepola said in the case of China, members of Team Nigeria were tested and none was positive of fever or Ebola.
"They were tested and monitored on arrival at the airport and at the hotel, yet athletes complained that they were overtly and clearly discriminated against at the games village.
"They were separated from other contingents during daily practice. The Consul General could not even find a hotel space to hold a meeting with the Nigerian contingent," he added.
Otepola commended the decision of the Nigeria Government to withdraw from the games in order to maintain the dignity and pride of the country.
He also praised the athletes for their spirit of commitment to the country.
Nigeria went to the games with 11 athletes and seven officials led by Dr Abdulkadir Mu'azu, Director, Sports Medicine Department of the National Sports Commission.
The games, which commenced with the opening ceremony on Saturday, will end on 28 August.